Aerial Drone Services
Showcase your business with high-def videos and photos



It's time to show off your business with the newest technology available. Our drone service gives you a unique view of your office, warehouse or storefront. Get smooth, high-def video and high resolutions still photos both indoors and out. We come to you and do a complete photo shoot right at your location. Let our expert pilot capture the heart of your business or facility.

This service is also great for realtors. Show off your next listing with great overheads of the home and neighborhood. Choose photos, videos or both to increase the coverage above and beyond the standard MLS photos.

Call Today! 877.245.0681

Why Drone Videos?
A Unique View
Give customers a unique view of your facility. Show off your building, store, office, warehouse or manufacturing facility with aerial photos and videos. We can even provide smooth indoor fly throughs to give a unique perspective that you can't get any other way.
Variety of Packages
Let us create an entire video production for you with music, graphics and more! You can use the video anywhere; online, TV , your website, anywhere you want. Contact us today to find out more about our unique service and how it can benefit your business.
Realtors
Real Estate agents, seperate yourself from your competition. Do you have a high-end seller? Give them something other can't with a beautiful overhead view of the property and smooth fly throughs of the entire house. You'll stand out!
Fly To Order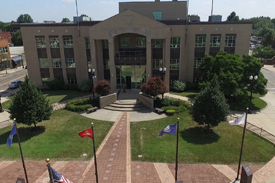 Drone service from XCom is ideal for a wide variety of applications and can give customers or prospective clients a unique view of your facility they won't get anywhere else. Our video service is perfect for special events, parties, sporting events and more. Call XCom today to find out how our drone service can give you beautiful photos and videos. Amazingly beautiful shots for your website, brochures, commercials and even YouTube.
You can trust XCom Ohio, LLC with your new videos. Featuring state-of-the-art equipment, our gimbal stabalized drone offers completely smooth, high-definition video fly throughs, fly overs and more. Call Today! 877.245.0681